Robert Emo receives inaugural WH Bryan PhD Scholarship in Queensland Earth Sciences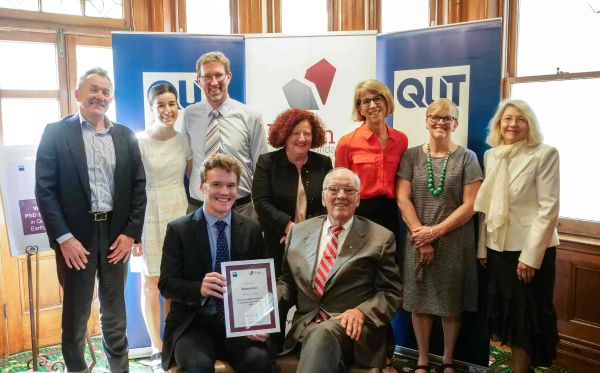 Back: Geoff McMahon, Annie Simes, Dr Scott Bryan, Prof. Margaret Sheil AO, Jill Simes, Sally Smith and Kay Bryan. Front: Robert Emo and Bob Bryan AM  
The Bryan Foundation is delighted to announce Irish PhD student Robert Emo is the inaugural recipient of the WH (Walter Heywood) Bryan PhD Scholarship in Queensland Earth Sciences who will carry out his doctorate at the Queensland University of Technology (QUT).
A special presentation was held at Old Government House within the grounds of QUT's Gardens Point campus on Tuesday 20 November, to celebrate and welcome Robert on his exciting new endeavour.
The WH Bryan PhD Scholarship in Queensland Earth Sciences was established by The Bryan Foundation to advance the understanding of the state's earth sciences by addressing a globally significant problem that leads to high impact outcomes.
Robert, who previously completed his undergraduate studies at Trinity College Dublin and then a Master of Science at the University of British Columbia, will now continue his postgraduate research at QUT where his field of study will investigate rare, deeply sourced rocks brought to the surface by volcanic eruptions.
The WH Bryan PhD Scholarship was open to candidates who would be hosted at one of Queensland's three universities undertaking undergraduate and postgraduate teaching and research programs in earth sciences, being James Cook University, University of Queensland and QUT.
Robert's selection followed a rigorous evaluation process overseen by an independent panel of eminent earth scientists who have a wealth of experience in studying and researching the geology of Queensland built up over many years.
His scholarship grant was based on the quality of Robert's application and the potential and strength of his elected project.
"My research aims to link the evolution of Queensland's lower crust to shallower processes expressed at the surface, such as the formation of sedimentary basins including Queensland's coal beds," Robert said.
"Through the generous funding of The Bryan Foundation, I am very excited to be able to conduct cutting-edge research utilising QUT's state-of-the-art facilities."
Presenting Robert with his scholarship was WH Bryan's son, Bob Bryan AM — also a prominent geologist — who was joined by members of The Bryan Foundation's directors and family, together with QUT's Science and Engineering Faculty academics, the judging panel and QUT Vice-Chancellor and President, Margaret Sheil AO.
Grandson of WH Bryan and QUT geologist, Associate Professor Scott Bryan said his grandfather made many impactful and wide-ranging contributions to his research field, tertiary education and societal wellbeing.
"Pop taught and researched in mineralogy, petrology, field geology and a particularly engaging topic he taught and posed to his students was 'major problems in geology'."
Scott went on to say this subject area was essentially the forerunner to plate tectonics…a theory we now take for granted but in his time, it was still two to three decades away from being realised. 
"Robert's successful project of study has many overlaps with Pop's areas of interest."    
The Bryan foundation congratulates Robert and is looking forward to seeing the successes of his research over the coming three years as the Foundation's inaugural WH Bryan Scholar.
To view images from the official presentation, please click here